Updated on 2020-12-21 by Adam Hardy
The drop in passenger numbers on trains due to COVID-19 is boosting UK low carbon freight – they're running 10% longer trains, with 10% more services and arriving 10% faster due to lower network congestion. One freight firm is running carbon-free across 2/3 the length of the British Isles, from Glasgow to Daventry, although they can't say if it's carbon-neutral haggis or Northampton footwear inside the containers, now that the unit of transport is mostly shipping container. Each 1/2 mile long train transports the equivalent of 38 lorries.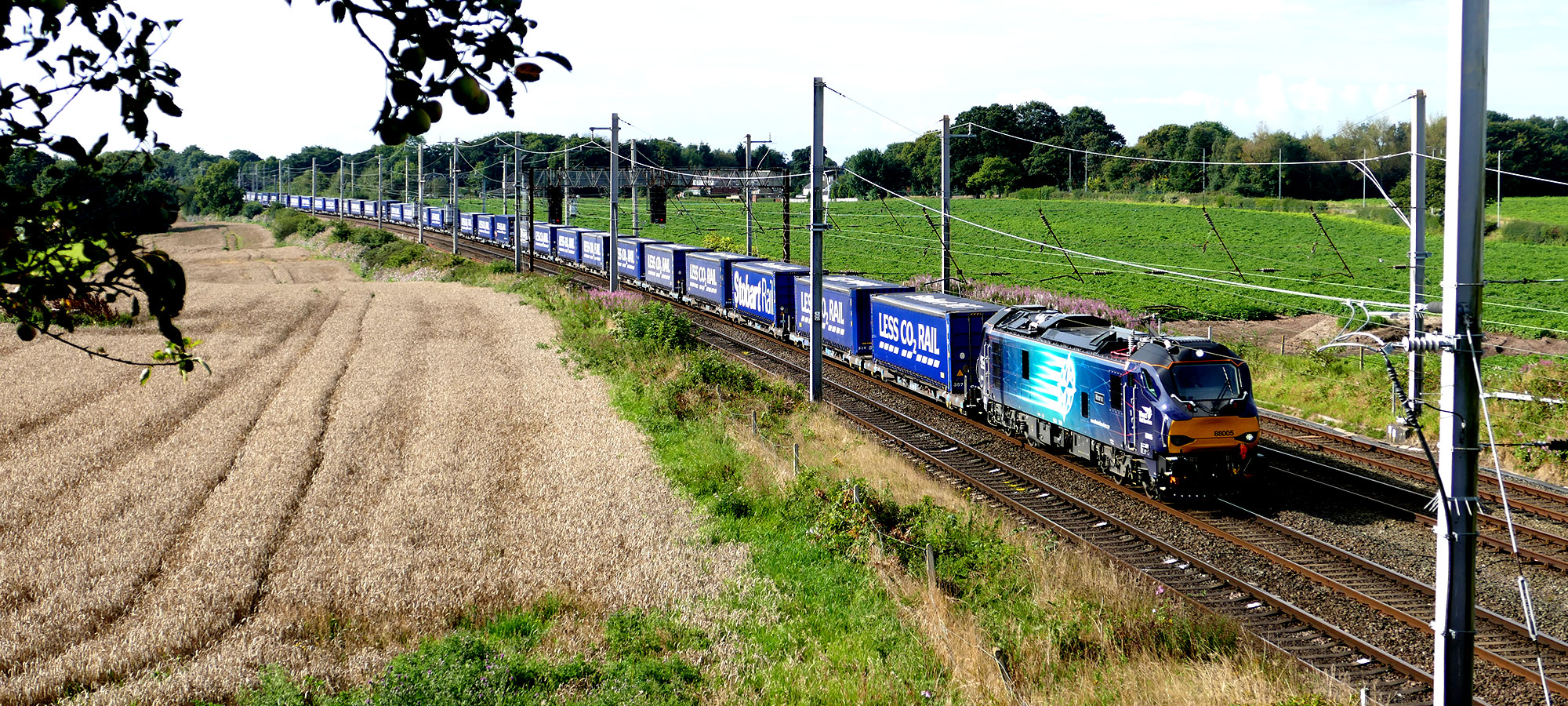 The carbon footprint of a journey by freight container can be completely zero carbon if the stretch of railway is electrified – it depends only on where Network Rail supplies the electricity from and if it comes straight off the National Grid during peak renewables supply, then there won't be any fossil fuels involved at all.
Direct Rail Services started out as a specialist haulier transporting nuclear waste from Sellafield in specially designed freight cars. In fact as dirty businesses go, they couldn't have been much worse since they started out with 10 diesel engines which had been used as construction locomotives during the building of the Channel Tunnel. They hired a low carbon business specialist and use every trick in the book to bring their emissions down. Their MD Chris Connelly said:
"We are working to reduce our carbon footprint in any way we can. Over the last twelve months we have successfully reduced CO2e per gross tonne mile by 25%. That's just the start. Maximising the use of OLE is where we are concentrating our efforts. Running on diesel is freight's biggest contributory factor."

DRS MD, Chris Connelly via Rail Freight.com
Low Carbon Freight – Road or Rail?
There is a danger these developments will be rolled back once passenger numbers come back to normal though, as UK Network Rail's priority is passenger transport, so the government will have to make good on its low carbon plans by bank rolling the expansion of the network capacity to cope with the additional load. There is also competition for low carbon investment:
Proposals exist for thousands of kilometers of overhead cabling to electrify HGV freight on UK motorways. But with target completion dates in the 2030s, the threat might not be so great.